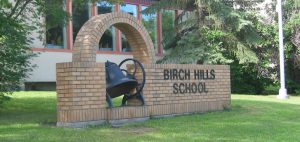 Principal: Mr. Barclay Batiuk     Vice Principal: Mr. Rylan Michalchuk
Phone: (306) 749-3301     Fax: (306) 749-2279      Email: bbatiuk@srsd119.ca
Breakfast For Learning Worker Schedule
Lunch Menu Pre-Order Form
Lunch Menu
Dear Parents:
School supplies will be provided by the school for a fee of $40. Parents will be responsible to purchase a backpack, lunch kit, 2 boxes of Kleenex, a pencil case and non-marking indoor shoes (no laces please for Kindergarten and grade 1).
The $40 fee will be collected at the beginning of the 2018-19 school year. 
Birch Hills Public School K-6 Teachers
 Important information about the school bus Any students needing the school bus this fall must be registered. It only takes 2 to 3 minutes and is very easy to do! Registering your child for busing is necessary, but doesn't have to be done every year. Please only re-register if the student's information (such as school, address or contact info) is changing. Please register if you are not sure if you already have. Registering online is quick and easy. Doing so now will ensure your child is placed on the proper bus for the first day of school. Not registering on time could delay having your child assigned a bus several days into the new school year. The direct link to register is https://www3.srsd119.ca/busgarage/transport/request.php or you can simply type "Sask Rivers School Division" or "SRSD119" in a search engine (we recommend Google) and we will surely pop up. Look for "Transportation Requests" in the green band towards the bottom of any of our web pages. If you have any question please contact your school or the Transportation Department at 306 763-2323. Thank you, Ryan Bruce, Manager of Transportation
It is time to start thinking about Kindergarten for the fall of 2018 if your child will be 5 years old by December 31, 2018. Parents must fill out the 2018-19 Registration Form (linked above) and bring their child's birth certificate to register.
If you have any transportation questions, please call the Bus Garage at 306 763-2323.
If your student is going to be away, please contact the school office at 306-749-3301.
Birch Hills Public School "Food For Thought" Cookbook
The cookbook consists of 110 pages with 186 recipes submitted from our Kindergarten to Grade 12 families and Birch Hills community members. We are expecting the books to arrive the week of December 18th and will send home with your child. If you do not have a child attending school, we will call you and you can pick the books up at the office. If you would like to purchase a cookbook ($15/book), please contact Angie LaRoche at (306)749-3301 or alaroche@srsd119.ca.