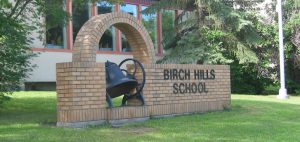 Principal: Mr. Jeff Court     Vice Principal: Mr. Kevin Tait
Phone: (306) 749-3301     Fax: (306) 749-2279      Email: jcourt@srsd119.ca
It's winter and it's cold! To continue building the habit of good attendance children may need to be reminded to dress for the weather. Winter coats, boots, mittens and toques will make going to and from school and playing outside at recess more enjoyable. Winter is not everyone's favourite season, but if we dress warmly for it, winter can be fun!
Birch Hills Public School "Food For Thought" Cookbook
The cookbook consists of 110 pages with 186 recipes submitted from our Kindergarten to Grade 12 families and Birch Hills community members. We are expecting the books to arrive the week of December 18th and will send home with your child. If you do not have a child attending school, we will call you and you can pick the books up at the office. If you would like to purchase a cookbook ($15/book), please contact Angie LaRoche at (306)749-3301 or alaroche@srsd119.ca.